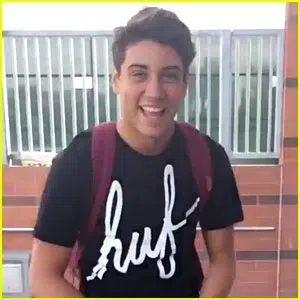 Who is Daniel and why is everyone talking about him?
You can never predict the latest internet trend. But 'Damn Daniel' has taken Twitter and Facebook by STORM!
His name is Daniel Lara, just a typical teenager from California.
But his bud Joshua made a video complimenting him on his wardrobe and style choices, and the internet is loving it….
Damn Daniel pic.twitter.com/Va10hmpePO

— josh (@josholzz) February 16, 2016
Damn Ellen also?

Brands are jumping on the Damn Daniel bandwagon also:
Whatever happens to those white shoes @Daniel_laraa, just know that we've got your back. #DamnDaniel #BackAtItAgain pic.twitter.com/0pIiH2EHln

— Clorox (@Clorox) February 18, 2016
#FindYourMagic. Every. #DamnDaniel. Day. pic.twitter.com/VqMaPJ43ZK

— AXE (@AXE) February 19, 2016
And it's not an internet trend without a remix:

DAAAAAMN DANIEL!