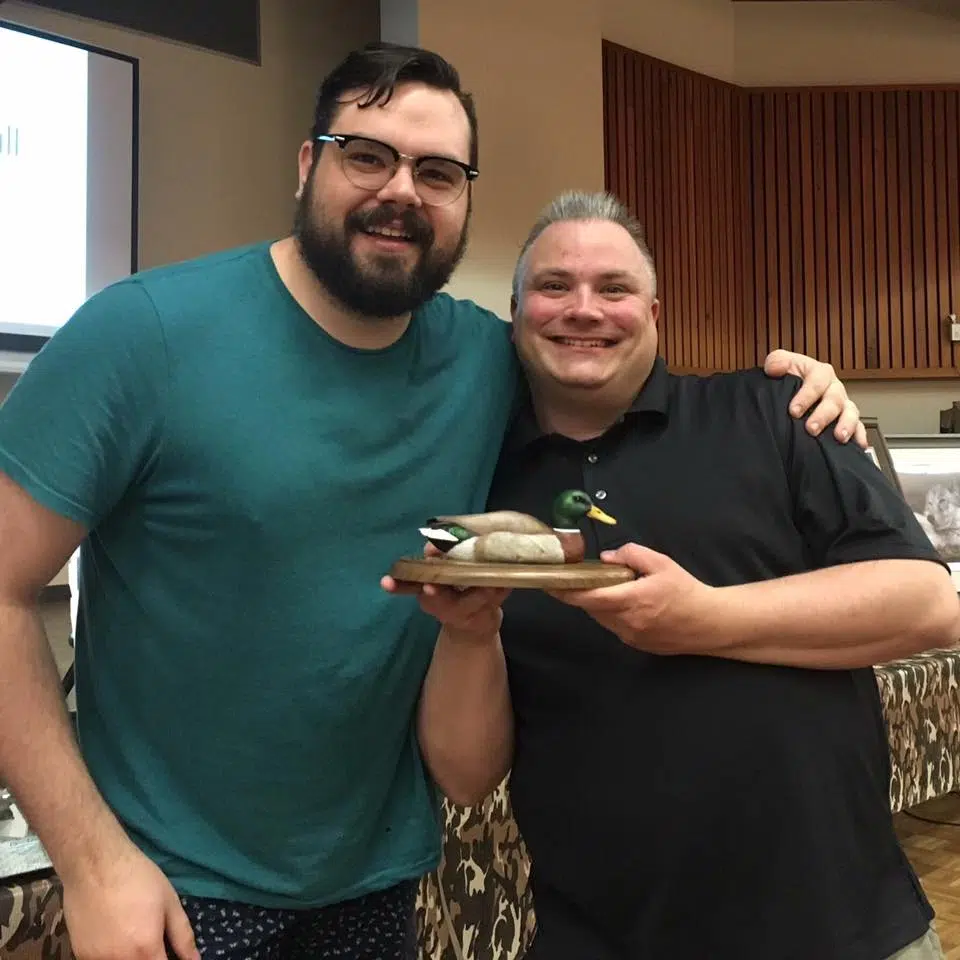 Hey, everybody!  Reader here, and of course, Nik and I have been celebrating a bit…  Allow me to fill you in.
For the past few years, as part of the annual Yorkton Ducks Unlimited spring banquet, they've held a BBQ Sauce Media Challenge, as members of the local media outlets work to come up with a crowd-pleasing sauce recipe, that will garner them enough votes to take home the "Saucy Duck" trophy.
Last year, Fox FM brought home the title for the first time, and this year, we were looking to defend our crown.
This year's contest had an added twist, however, as every contender had to use a specific beer in our recipe, provided by Yorkton's brand-spankin'-new craft brewery, Back Forty Brewing Company.
So, after Nik and I did some sampling, to determine which brew we wanted to use, we adjourned to the Sauce Lab (otherwise known as Nik's spacious basement suite), where we concocted our formula, mixing and combining ingredients, until we came up with one we liked.  We grilled up some pork chops, and used our fellow Fox announcers (Thanks, Kyle, Chris and James!) as taste-testers.  Once they gave the thumbs-up, we were set.  We wanted to come up with something sweet and tangy, a little fruity, and straight-up delicious.  And we figured we succeeded!
Fast forward to this past Friday night, at St. Mary's Cultural Centre, as we unveiled our sauce to the world.  The crowd were served up a delicious meal, including chicken and ribs, with which they were able to sample the five sauces in contention.  In the end, our sauce was able to garner enough votes, to allow us to bring home the title for the second straight year.
Thank you, to everyone who put in a lot of hard work, to put on another great evening, as well as to those who enjoyed our concoction enough to vote for it!  Much appreciated!
Now, for those of you who'd like to give our creation a try, without further ado, here's the recipe for Nik & Reader's prize-winning BBQ Sauce!
First, take…
1 cup of Back Forty Grapefruit Radler (Bring to a boil, and let it simmer enough to reduce it down to about ½ cup, to bring out the grapefruity sweetness)
Take 100 mL of the reduced Radler, and add to it:
2 tbsp of Liquid Honey
1 (heaping) tbsp. of President's Choice orange marmalade
1 (heaping) tbsp. of President's Choice Peach Chutney
½ tsp of Kikkoman Teriyaki Baste & Glaze
Mix the reduced radler and the above ingredients well, then strain the mixture, to remove the solid pieces from the marmalade and chutney.
Then take the strained mixture, and add to it:
150 mL of Kraft Brown Sugar BBQ Sauce
50 mL of Diana Gourmet Chicken and Rib Sauce
1 ½ tsp of President's Choice Shichimi Togarishi 7-Spice Japanese Seasoning
Mix it well, (expand the recipe proportionally, to give a few hundred people a chance to sample our concoction), and voila – a delicious BBQ sauce!
We hope you enjoy it as much as we do!  Cheers!