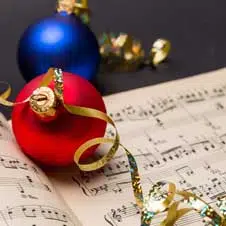 Happy Mid-Week Wednesday, everybody!  It's Reader once again, with the next two entries in my personal Christmas Song Countdown!  These have been some of the holiday tunes that I've come to love over the years.
If you were listening to the morning show today, you'd have heard Nik and I playing #4 on my list…  "Christmas In Hollis," by rap pioneers Run-DMC!
A fun tune about the Christmas Eve hijinks of Reverend Run, DMC, and Jam Master Jay, this one came out in 1987, as part of the first edition of the "A Very Special Christmas" series of albums.
It's pretty much impossible to not be in a good mood when you here this one!  It makes me want to put on my adidas (not a stretch for me), fedora, shades and gold chain, and join the fellas for an evening of merriment in Hollis, Queens, New York City!
Enjoy!
That's what I'm talking about – THAT's a Christmas PARTY, courtesy of the Kings of Rock!
Shifting gears, now, we go to another of my all-time favourite artists, the legendary Stevie Wonder.
He released his holiday album, "Someday at Christmas," back in 1967, when he was still a teenager, and though I love the title track, nothing quite matches the energy of his rendition of "What Christmas Means To Me."
It's a song that has been covered my numerous artists over the years, including John Legend, Cee-Lo Green, Jessica Simpson, and even Hanson, but to me, no one gives life to it, and brings the joy, quite like Stevie.  Check this out!
Yesssss!!!  I love it!  Gets you movin' doesn't it!
That leaves us with just two more entries on my Christmas Song Countdown.  What'll take the top two spots?  Check back Friday, to find out!  And maybe, I'll even have a little bonus entry, too!