Many people have an emotional attachment to the toys they played with when they were younger, and it seems, some folks are willing to shell out big bucks to relive those feelings. Polly Pocket Dolls are selling for upwards of five-figures, but they aren't the only vintage toy going for big quid. A Furby just sold on ebay for $4,550 and now people are digging through their closets and attics to find their old, furry, robotic pets. The highest-selling Furby on the online auction site was a Tiger Special Millennium Edition, before the week-long auction came to a close, bids quickly jumped to thousands of dollars.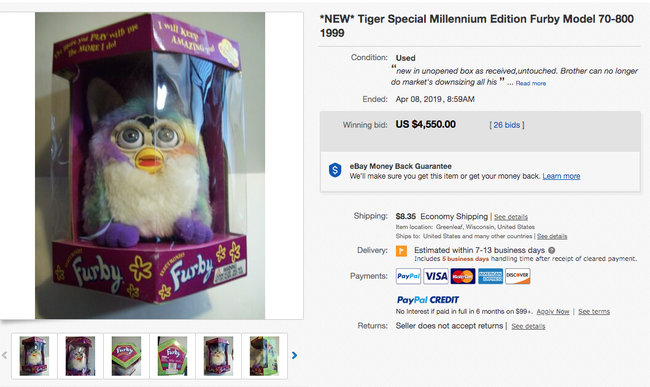 Don't worry if you don't have the Tiger Special Millennium Edition Furby though, others have value too. The Orange Furby With Brown Eyes from 2005 recently sold for $330, while a 2006 Funky Singing and Dancing Furby went for $270, and a 1998 First Edition Furby sold for $250.
The most valuable Furbies are new in their original box, so if you held on to one of the gibberish-speaking pretend pets after being too creeped out to even open it when your grandma gave it to you for Christmas in 1999, you might be in luck!
Meanwhile, if you got rid of yours and want to replace it with a newer version, Hasbro has updated the toy and even created an app that it interacts with.