MARK YOUR CALENDARS! Christmas Ornament Painting is coming to town!
Location: 409 A, Main Street, Canora @cf_.aesthetics
FRIDAY, DECEMBER 8th. @ 10:30 am – 6:30 pm!
First come first serve for the supplies I will be providing for you all!
Draws for all! Winner will be announced on Dec. 9th!
Consignment for purchase (Christmas present ideas)
Gift Certificates for any service with me, will be available, all you have to do is just ask if you'd like one!
20% OFF any service booked in person, on the 8th! Gel pedicures or manicures!
Silver donation at the door!
Bring your family, friends, or spouse with you to paint a tree ornament you will have forever! Let's make memories together. Anyone is welcome to attend! More info will be posted on @ cf_.aesthetics on Facebook and Instagram! Please note the wooden ornaments I am providing are limited.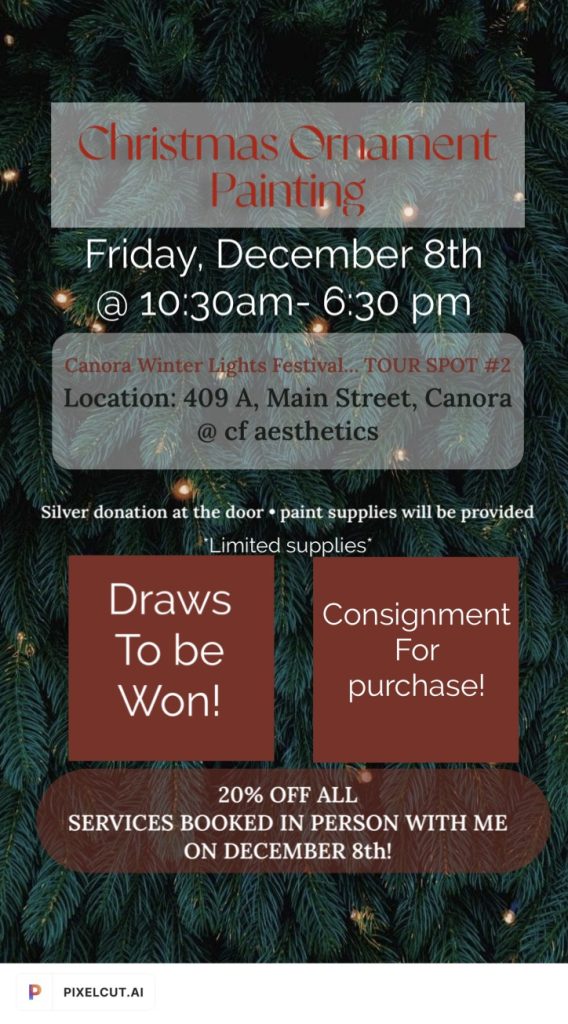 WHEN
December 8, 2023 10:30 am – December 8, 2023 6:30 pm